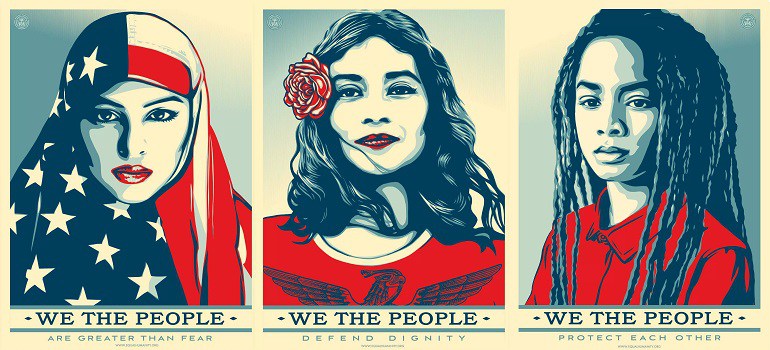 This article first appeared in Marklives.
If I'd had to describe myself a year ago, I probably would've come up with a description along the lines of "feminist lite". A belief in a Spice Girls-esque version of Girl Power, I suppose, where feisty women hung around in girl gangs, talking about equality while comparing the best brand of sparkly nail polish and badass heels. But something's happened over the past year to change this.
And, to be fair, for the majority of my years, the blurry days of women's inequality of decades ago seemed far off. My mom — a massively well-known and respected scientist — told me stories of her younger years in which day-to-day sexism was rife. Times when she was groped by her creepy professor in full view of his wife and her husband (my dad), and how it was considered normal; if she'd spoken out, she would have been dropped by the research team. How she used to drop her first name and just use her title of "Doctor" when dealing with colleagues and other scientists because, when they knew she was a female, they used to belittle her findings and call her a "silly woman" but mysteriously didn't do so when they assumed she was a man.
I used to gasp with horror and feel thankful that my career was unfolding in a time of enlightenment, where we could be free to develop strong and impactful careers, where we could, literally, aim for whatever we wanted.
But something has happened recently that has started me thinking differently. A small feeling of disquiet that has started to grow into an angry roar. One that has made me feel like an angry feminist type that will start wearing pink pussyhats and, Madonna-like, speak of blowing things up.
It's no coincidence that these feeling started to emerge last year, as the US election primaries started gaining momentum. I felt an uneasiness as who was then the outsider to be president joked about grabbing women, and wondered how a junior employee in a low-paid job would ever be able to stand up for themselves in a similar situation, when one of the most powerful people in the world said it was OK. This uneasiness grew as I watched the extremely personal and degrading insults that were thrown at his woman counterpart.
It seemed to me that there was a vast amount of people who would prefer the leadership of an emotionally unstable and less-qualified man than a women — at any cost. It made me scared because I realised how many people, women included, did not trust or want women in leadership positions.
And, while all this was happening, I started to notice little things (at first) that showed that these events being played on a world stage trickle down to all facets of life, including our own industry in this country.
We have spoken in length about how there are a lack of women role models and women in leadership positions in our industry. Why is this? Is it because we get paid less? Because we have to juggle caring for kids and families? Or is it because we are simply unwelcome? I cannot count the number of times that a man, often junior to me, has spoken over or 'mansplained' things to me in front of others in meetings. I know of many examples where women have been treated in ways that would be simply unacceptable if the situation were reversed. A case in point was a friend in an ad agency who was being pursued by a client, in an obvious and embarrassing way. When she turned him down, politely, he 'joked', more than once, that he would get her fired from the account.
The problem with all of this was that we are scared to fight back. When I told someone I was writing this piece, he rolled his eyes, and said I should stop "my ranty feminist shit as it wasn't attractive". As the new president of the US has shown time and again, if we stand up for ourselves, we get called, fat, old, unattractive, whiney, deranged and hysterical. We get Twitter trolls telling us we should be raped.
But, perhaps, it's not all doom and gloom. The Women's Marches in the US and the rest of the world have shown that women will not go back to where we were. We are incredibly strong, even more so when we stand together.
I hope that we can take that learning back to our industry, too. We don't need to be ranty and blow things up. I find hope, personally, in a quiet and strong call to #resist rather than angry anarchy. We can quietly, and decisively, make small changes to make this different. Don't put up with shit where the women in the office get talked down to and treated like pieces of meat. Support the growth of women into leadership positions; understand that these women do not come in two modes — bitchy boss or giggling bimbo. Despite being labelled hysterical, many women bring a level-headedness, lack of ego and high EQ that can be incredibly valuable to a business. And that whole thing about multitasking? It's true, I tell you! Make sure you have female teams leading strategy and creative for female brands — why the hell not?
And, for heaven's sake, women, support women. We don't need that petty, competitive crap where we love to make other women look bad just to make ourselves feel better.
Remember, there are some incredible women out there who may be inspirational and incredible role models — for men, too. Here are some to start with (whether you share their beliefs or not, you can't argue that they are not badass):